Beauty, Temperament, Health
We are accepting deposits and applications for Spring/Summer 2021!
Litter Details:
                                       Last litter September 2019 
1 is a Parti 90 percent white with black.
1 is 90 percent tan with white markings.
5 have the most deep, rich, chocolate coats.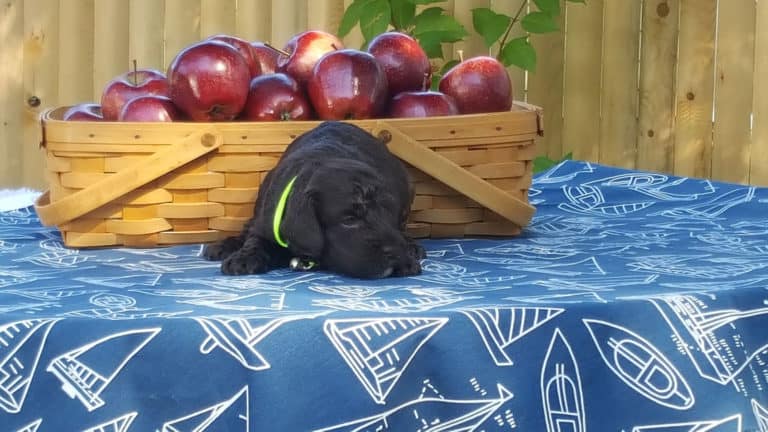 Medium size male, "Dark" Chocolate with white Blaze markings. Sweet personality, he is very friendly and is absolutely gorgeous! Previous Next
Read More »
Atlantic Labradoodles is a breeder of Australian Labradoodles Association of America .
I would like to share my passion for this enchanting breed of dog with you. I first purchased a Labradoodle named Lucy, for my grandchildren. She has been wonderful. I saw first-hand how this breed responds to children and families. They are loving companions, who have great personalities, are playful, endearing and full of fun. They are allergy-friendly. Too.
Desert Waves, Frosted Elegance, "Ella", the dog I have chosen not only as a breeder but as my own personal pet, is had a litter of puppies on 9/12/19. This will be the second litter for Desert Waves, Frosted Elegance, "Ella" and Colonial Village Boston, the Patriot, "Pat". Their first litter consisted of Caramels, Cream, Parti and Chocolate Labradoodles. They have been paired again, because the first litter was that amazing.